Soldering workshop for kids and adults
Goal
Learn to solder your first electronic circuit with professionals.
We will solder the Weevil Eye that blink in the dark!
Kid soldering at MakerFaire Brussels event:
The Weevil Eye soldering kit: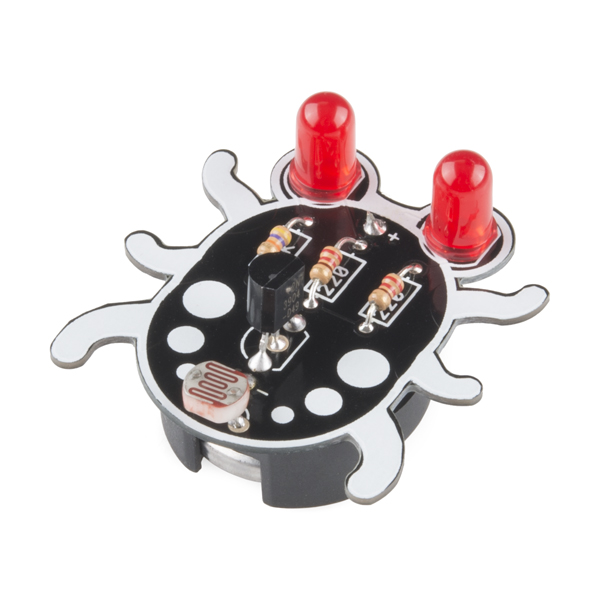 Hardware
DIY third hand
In action:
Ingredients:
DIY USB soldering gun holder
I could not find a decent USB soldering gun holder for those USB soldering guns, so I made one myself out of 2mm think copper wire from Brico.
I used some pine wood cut long enough to have stability.
Ingredients:
2mm thick copper wire
wood (dimensions Xcm x Xcm)
bolt nut
What went wrong?
Some people soldered the LEDs in the wrong order, IMHO there should be some "+" and "-" labelling on the silkscreen of the PCB so that people at least ask themselves which leg of the LED is the "+" or the "-".
One lamp of the DIY third lamp did not work
We did not know how to debug the board if it does not work out of the box
Maybe have some floating battery to test the circuit before soldering the battery
There should be a switch (in the front) in order to avoid draining the battery during the night
There should be a magnet to put it on the fridge
Instructions should have been printed on paper, so that participants are autonomous
Instructions should be translated to french
5 minutes briefing for everybody at the beginning with 3 bullet points
What's next?
Make another workshop, find more kids
Re-order the PCB at DirtyPCB or OSHPark
Fix the PCB with improvements
Order a Christmas tree, and add an esp8266?
First event
When: Friday 27 sep 2019, from 10H to 18H (duration 1H)
Where: Educode conference, Haute-École Bruxelles-Brabant, avenue Defré, Uccle, Belgium
Who: Kids from 6y old to Adults up to 99y old :-)
Fee: 5EUR
Registration: by email, and specify your name and your preferred time slot
Contact: Benjamin HENRION

moc.liamg|babooz#moc.liamg|babooz

+32-484566109
Second event
At MakerFaire Brussels
Links